New Etrian Odyssey, Millennium Girl is a remake of Etrian Odyssey 1 featuring a greater focus on storyline and production values while keeping the gameplay in-tact. The game is planned for a June 27th release this year. What is known about the game has been released by Famitsu Magazine, but more may be revealed on the teaser website on March third.
That more detailed storyline presents that mysterious earthquakes and roaring have been shaking Etria to the core. You ( voiced by Kousuke Toriumi) play a spear wielder from the highlands who is asked by the government of Etria to investigate ruins. You will not be alone,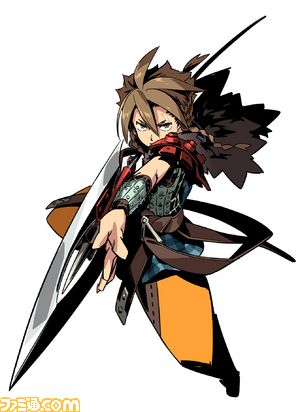 Frederica Irving (voiced by Maria Ise) is a gunner. Kind, shy, she's lost her memory and that may be why she keeps her distance from people.

Simon York (voiced by Daisuke Ono) is a medic sent on the investigation by the Mizugaruzu library. He is said to be calm, intelligent, and have knowledge of labyrinth monsters and ancient civilizations.

Arthur Charles (voiced by Toshiyuki Toyonaga) the Alchemist talks a lot and thinks a little. He is part of Simon's team and has a lot of faith in him.

Lacoona Sheldon (voiced by Shizuka Ito) is a Paladin from a royal family. Even so, she is kind and modest, just and sensible... Though she may be less logical when a good meal is involved.
Looking past characters, Millennium girl is looking very familiar. The different characters can be changed into different jobs and level up those skills from a limited pool of skill points. Characters undergoing a class change retain their stats and appearance but gain access to all new skills. The only difference noted is that there are no Novice and Veteran tier skills in this game.
Shigeo Komori is Directing, the director of Etrian Odyssey 1, 2, and 3
Yuji Himukai is on Character designs. The artist behind the designs in EO1, 2, 3, and 4
Shin Nagasawa is taking care of monster designs. The monster designer for EO 1, 2, 3, and 4
Yuzo Koshiro is back on music. Musician for EO 1, 2, 3, and 4.
Business as usual, it looks like the Etrian family sticks together.


We'll be keeping up with New Etrian Odyssey, Millennium Girl info up until its release this June. In the meantime, see you in the maze.
Teaser Website: http://ssq.atlusnet.jp/
Famitsu scans: http://www.famitsu.com/news/201303/28030925.html